Pillar Cremation Packages
Getting Started is Easy.
Select a Package Below
Download and Fill Out Our Forms
Submit Completed Forms and Payment
---
---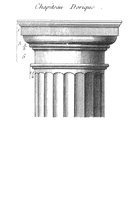 Doric — $1350
Package includes:
Shelter of remains (limited to 48 hours)
Filing (only) of death certificate, Social Security notice and grave registration (veterans)
Alternative container (fiberboard box, wood tray)
Placement of free death notice (only) in Times Herald
St. Clair County Medical Examiner Permit Fee
May Memorial (Port Huron Township) Crematory Fee
Mailing of cremated remains
PLEASE NOTE: It is important to understand what the Doric package does not include. Please review the rest of our page, so you can understand that you are declining many additional services that most of our families need or want. It is the responsibility of the family to provide complete death certificate information, full cremation authorizations, and payment prior to cremation. If the family is unable to provide these items, and cremation is delayed beyond 48 hours, such failure will result in a sheltering remains charge of $100 per day, or an embalming fee may result at our discretion.
---
Ionic — $2200
All Doric services above plus:
Arrangement conference
Memorial service arrangements
(coordination with family, clergy, musicians, etc.)
Staffing of church/club service if desired
Handling of and accounting for contributions and tributes
Obtaining and delivering death certificates
Guidance and assistance with benefits and insurance
Preparation and assistance with newspaper notices
Assistance with final disposition of cremated remains
Arrange delivery of cremated remains to final destination
---
Corinthian — $3350
All Ionic services above plus:
Use of funeral home facilities for memorial service
Stationery package (register book, two boxes of acknowledgements, and 100 memorial folders or prayer cards)
Webcast of memorial services
---
---
Additional services available with any package:
Use of funeral home facilities per day $1,000
Bathing, shampooing, and embalming $750
Transfer of remains $345
(outside local area, an additional $2.25 per one-way mile)
Extended shelter (over 48 hours) per day $100
Webcasting $300
White dove release (seasonal) $150
---
Additional merchandise available with any package:
Prices may vary by selection, please ask.
Stationery (guest books, thank-you cards)
Urns (containers for cremated remains)
Cremation Jewelry
Prayer cards & memorial folders (custom color)
Reception Room refeshments
Cremation caskets and containers
Shrouds & baskets
Thumbies (fingerprint jewelry)
Tribute Videos
---
Memorial Resources
---
Professional services required by law are provided by:
Marysville Funeral Home
1200 Michigan Avenue, Marysville, MI 48040
(810) 966-9227
J.W. Kendrick, Manager.